Donor Agreement saves Plumas-Eureka State Park in the Sierra Nevada
In a rugged landscape 60 miles north of Lake Tahoe, Plumas-Eureka State Park faced an uncertain future as one of 70 parks initially slated for closure on July 1, 2012.
Yesterday, California State Parks officially announced that Plumas-Eureka State Park Association donated $70,000 to help cover operational costs and keep the remote Sierra Nevada park open for the next two years.
A Sierra Nevada Park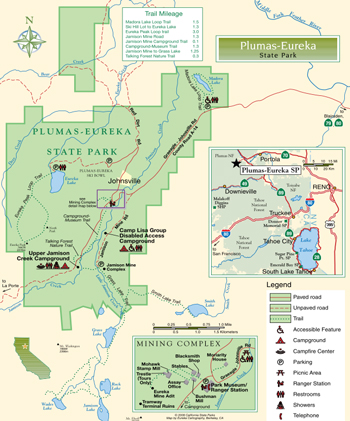 Established in 1959, Plumas-Eureka State Park undulates over elevations ranging from 4,500 to almost 7,500 feet in the northern reaches of the Sierra, where granite mountains give way to the volcanic Cascades.
Black bears, minks, mountain beavers, goshawks and bald eagles are common inhabitants. The park offers hiking, cross-country skiing, camping, a museum and "living history" tours.
For thousands of years, the Northern Maidu lived in this region and remained relatively isolated until 1851, when miners discovered gold on an exposed quartz ledge high on the slopes of 7,447-foot Eureka Peak. In the decades to follow, stamp mills near the peak processed millions of dollars in gold.
In winter, the nonprofit Plumas Ski Club organizes annual "Longboard Revival" ski races in the historic Plumas-Eureka Ski Bowl. Contestants wear 1860s attire while racing on long wooden planks up to 16-feet long. Miners originally used these "Norway Skates" as a means of winter transportation.
Donor agreements, one of three park-saving models
Nonprofit cooperating associations like the Plumas-Eureka State Park Association have been among the first groups to step up to save parks. Park advocates at Henry Coe State Park in the Bay Area created the first model for "donor agreements" with the Parks Department.
The deal with Plumas-Eureka State Park represents the fifth park saved using the donor agreement model. California State Parks offers three possible partner arrangements (described in detail here).
1. Donor Agreement: An interested party donates funds to California State Parks to continue some or all park functions by state personnel. Funding for these agreements can either be through a lump sum or a dedicated revenue stream. Fundraising thresholds vary from park to park.
2. Concession Contract: California State Parks negotiates a contract with a concessionaire. The Parks Department has issued Requests for Proposals for some parks at this time.
3. Operating Agreement: California State Parks enters into an operating agreement with a governmental entity or a qualified nonprofit organization to assume some or all state park operations (including hiring park personnel). The new law, AB 42, will allow up to 20 nonprofits to enter into operating agreements with the state.
Jack London State Historic Park possibly first AB 42 agreement
According to recent news from the Parks Alliance for Sonoma County, the Valley of the Moon Natural History Association might be the first nonprofit to successfully reach a deal with the state using park partnership model #3 to save Jack London park. (Read more in previous posts here and here).
The nonprofit is awaiting final confirmation of the contract that will allow Valley of the Moon Natural History Association to take on operation May 1, 2012. In preparation, the Association is hiring staff, painting the former Ranger house, working out details of entry fee collection, transitioning volunteers and communicating with state park staff to refine best practices going forward. The nonprofit will raise funds for the park in a variety of ways including events. They created a partnership with Transcendence Theatre Company to run a second summer season of Broadway concerts in the Old Winery Ruins.
Blog series
This is the 24th article in a series on threats to California State Parks and the search for sustainable funding.