News and notes – biking advocacy, STEM for girls, literacy education, clients in the news
The Latest – What I've been working on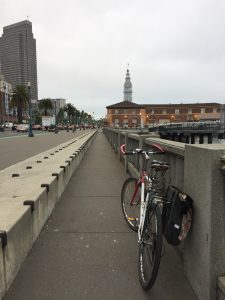 I am thankful for my first bicycle, a gift from my parents at the age of five that inspired a lifelong love for riding. In the years since I have biked to school, to work, to have fun and to run urban errands. Bicycles have given me an affordable way to get around and the freedom to move under my own power in the open air. For this reason, I have been thrilled to serve as the Interim Development Director for the San Francisco Bicycle Coalition, an education and advocacy organization that works to promote safe streets and biking for transportation. I first joined the organization as a member in the 1990s. Next week, the SF Bicycle Coalition will gather biking advocates, city leaders and supporters for the 27th Anniversary of the Golden Wheel Awards. Please join us!
This year I have also continued to work with Techbridge Girls in Oakland, Washington DC and the Greater Seattle region. Techbridge Girls is a national award-winning nonprofit that began as a program of Oakland's Chabot Space & Science Center in 2000 to bring science, technology, engineering and math education to low-income girls. They help marginalized girls of color to break the cycle of poverty and achieve economic freedom by connecting them to STEM learning experiences and a network of STEM professionals. In the face of adversity, those mentors help them stay motivated to pursue STEM education, careers and lifelong success.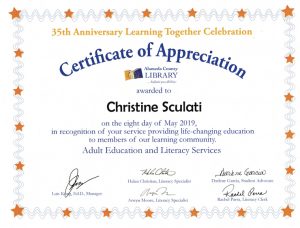 This past spring I also gained the opportunity to merge my passion for reading with my interests in supporting literacy education. As a volunteer, I facilitated a literacy program for English language learners in the Write to Read: Reading Club program, which is offered by Alameda County public libraries.
Given my history of working with the Bay Area Afghan refugee community, I was thrilled that my group chose to read the novel "Shooting Kabul." By the end of the 15-week program I observed noticeable differences in the reading comprehension and English-speaking abilities of my students and they reported the same. During our last class we had a rich discussion on the book's myriad themes, which included Afghan culture, the refugee crisis, the trauma of being uprooted from your home and leaving everything behind, being an asylum seeker, importance of family during difficult times, art and science of photography, bullying, bigotry, and power dynamics in communities.
Current and Past Clients in the News
San Francisco Bicycle Coalition – This year's Bike to Work Day on May 9, 2019 was one of the best on record with an astounding 1,365 people joining the SF Bicycle Coalition as new or renewing members and Mayor London Breed announcing a commitment to build 20 miles of protected bike lanes over the next two years.
Techbridge Girls – Techbridge Girls was the 2018 grand prize winner of the $100,000 Underwriters Laboratories (UL) Innovation Education Award, which led to extensive publicity across the country, from national blogs to regional articles. A recent Grammarly video about Techbridge Girls has drawn more than 5 million views. Also notable was this feature on the Golden State Warriors website about their partnership with Techbridge Girls.
Flower Piano  – a program of San Francisco Botanical Garden Society – is  now in full swing for its fifth year of connecting visitors to music, community and nature. This weekend is the last weekend of professional performances for this year's event. Don't miss it! Read more about this year's event in the San Francisco Chronicle.
Island Conservation is celebrating 25 years of conservation success. Read about recent victories in Ecuador's Galápagos National Park.
Point Blue Conservation Science entered into its sixth decade in 2019 with a new CEO, Mani Oliva, who brings an extensive background in shaping environmental policy from the U.S. Department of Agriculture, U.S. Environmental Protection Agency and Conservation International.
Juma, a San Francisco-based nonprofit social enterprise that operates businesses to employ low-income young people and programs to set them on a path toward living wages and careers was selected as one of the five National Seed Communities of the Obama Foundation's inaugural My Brother's Keeper (MBK) Community Challenge Competition.