California nonprofits and lawmakers patch together broken state park system
This past week I received a flurry of emails from Robert Hanna, the great great grandson of John Muir (pictured below), who has possessed a fierce determination to save every state park in California slated for closure. On Friday he celebrated victory at the State Capitol in Sacramento after learning that all but one of 70 parks will stay open, and he is not stopping there.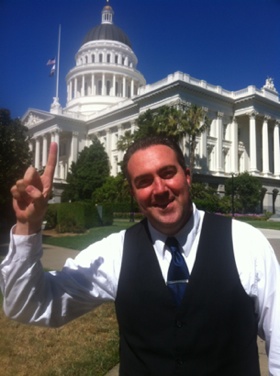 In May 2011, California State Parks announced the closure of 70 parks around the state due to proposed budget cuts for the fiscal year that started today. Parks were hit along with health and human services programs in effort to reduce the state deficit, now near $16 billion. Due to a $22 million budget shortfall, parks were scheduled to close today, July 1, the first day of the new fiscal year.
Park advocates have now patched together short-term funding and operating solutions to help keep 69 parks from closing, at least for now.
40 State Parks now have firm operating agreements.
25 State Parks are still under negotiation (recent budget bills bought these parks more time).
4 State Parks do not currently have viable options and may still close (recent budget bills bought these parks more time).
1 State Park is closed and its future is very uncertain.
Nonprofit park partners and conservation organizations, local governments and private companies have negotiated deals leading to 40 formal agreements that will keep those parks open from one to five years.
Nonprofits have rallied their local communities to find short-term solutions through fundraising, unique partnerships with local government agencies and, in a couple of cases, by fully taking over park operations. In a few cases, the federal government agreed to maintain state parks near national parks, and private companies submitted bids to respond to "Requests for Proposals" issued by California State Parks.
Park advocates are still negotiating for 25 parks
Beyond the 40 deals, other groups continue to hammer out agreements for 25 additional parks from Railtown 1897 State Historic Park in the Sierra foothills to Hendy Woods State Park in Mendocino County.
Five Tuolumne County Rotary clubs raised funds to match a $75,000 grant from the Sonora Area Foundation to help save Railtown. Railtown 1897 and its historic locomotives and railroad cars have appeared in more than 200 films, television productions, and commercials.
Hendy Woods, another park with an interesting cultural history, preserves ancient redwoods in two peaceful groves and offers visitors camping, access to the Navarro River and intrigue to discover huts where the Hendy Woods Hermit lived a wild existence for 18 years. The newly formed Hendy Woods Community, a nonprofit, is saving that park with the help of substantial support from Save the Redwoods League, a nonprofit that has raised funds to preserve ancient redwood groves as state parks for 94 years.
Parks without viable options
The fate of the remaining five parks, Benicia State Recreation Area, California State Mining and Mineral Museum, Gray Whale Cove State Beach, Zmudowski State Beach and Providence Mountains is much more uncertain. All but Providence Mountains next to the Mojave National Preserve will continue operating "for the very near term," according to Natural Resources Agency spokesman Richard Stapler. If those parks do not attract partners willing to support these parks, then services like trash pickups and bathroom maintenance will end. Providence Mountains has been closed since March of this year and has already been vandalized resulting in over $100,000 in damage.
Signed budget bills offer breathing room beyond July 1
Up until about a week ago, only about 31 parks had formal agreements. Then this past Thursday park officials dramatically shifted their position with time running out. The reprieves for 38 more parks came at the end of this last week after Governor Jerry Brown partially signed-off on stop-gap budget bills from lawmakers, re-allocating $10 million to the state park system and $13 million in bond funds for projects to pursue cost-saving or revenue-generating enhancements to the park system.
You can help build a sustainable future for these California state parks by visiting the parks, paying parking and camping fees and making donations to park partners. Follow Hanna's Range of Light Facebook page to stay up on his fight for long term solutions for our beleaguered park system.
More coverage at Bay Nature
A version of this story also appears on BayNature.org. Along with veteran reporter and editor Joan Hamilton, I will continue to support Bay Nature's coverage of the state parks. Are you a new operator of a state park? If so, I hope to hear from you.