A point of reckoning: California state parks nearing closure date
In November 2010, 58 percent of California voters turned down Proposition 21, which would have raised $500 million a year through an $18 vehicle registration fee for California's 279 state parks. With the failure of that proposition and the major budget cuts that ensued, the next chapter for California's state park system looks bleak.
We are close to witnessing the closure of state parks for the first time in our state's history due to a $22 million budget shortfall on July 1, 2012.
Since the announcement of park closures in May 2011, blogger Glenn Brank of NorCal Yak grew concerned for the loss of treasured access points for paddlers in places like China Camp State Park.
"Sad to say, but China Camp and its rich history are on a collision course with a future fixated on the bottom line. … It seems ludicrous to abandon a place with almost 150 years of history and so much to offer kayakers and other outdoors enthusiasts – especially when it's so close to urban areas."
NorCal Yak recently asked California State Parks for an update on the park closures. Following NorCal Yak's lead, I contacted State Parks spokesperson Roy Stearns to check in.
How many parks have been saved? How many are likely to close?
As of May 11, 2012:
15 parks hold signed agreements to keep them open. These are short-term fixes, but at least these parks will not completely shut down. Visit my new park status page for the full picture.
20 parks are under negotiation with nonprofit partners or public agencies.
21 parks are accepting bids for concession agreements (including Castle Rock State Park and Portola Redwoods – two parks that are also on the "under negotiation list" and likely to receive a reprieve). The future for many of these is uncertain.
16 parks appear to be doomed for closure. They do not fall on any list, which means they are not in negotiations at the state level (but could be at the local level). Or partners have not stepped up.
State Parks staff visit park doomed for closure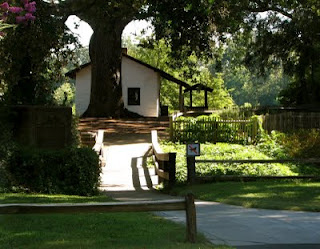 One of the 16 doomed parks without any viable options at this point, William B. Ide Adobe State Historic Park, recently received a visit by State Parks staff, reports the Daily News of Tehama County. This historic park lies along the Sacramento River in Red Bluff, about a two-hour drive north from Sacramento.
The visit involved evaluating costs and options to close the park including boarding up windows and putting up chain-link fences. The local nonprofit partner to Ide Adobe since 1979 has been scrambling to raise funds, but so far their grassroots fundraising has only yielded under $3,000. A parks department report estimates that Ide Adobe costs $127,110 per year to operate.
In the meantime, other remote parks in California's northern reaches are already shutting down. According to the Times-Standard, the North Coast Redwoods District of California State Parks announced service reductions, particularly campground closures, to three state parks. Although the parks were initially scheduled for closure in July, the district can no longer afford to operate them. Residents near the parks are worried about the repercussions on local tourism – and the local economy.
Urgency bill, AB 1589, advances
One piece of good news emerged on Monday when an urgency bill to save state parks, Assembly Bill 1589, advanced in the legislature after gaining unanimous, bipartisan support from the Assembly Revenue & Taxation Committee. Jared Huffman (D-San Rafael) and Wesley Chesbro (D-North Coast) co-authored the legislation that proposes several creative funding opportunities to help prevent state parks from being closed.
The bill, also known as the California State Parks Stewardship Act of 2012, addresses short and long-term needs for California State Parks to achieve substantial budget savings without wide-scale park closures. The bill includes an option for taxpayers to designate all or a portion of their state income tax refund towards purchase of an annual state parks pass. This option has worked well in the state of Maine.
On Thursday at the annual conference of the Bay Area Open Space Council, Huffman said we have to move on from the failure of Proposition 21. In this "new normal" for the system, we need to work creatively.
"We can no longer count on public funding as the only source of funds for state parks."
Blog series
This article is part of an ongoing series on threats to California State Parks and the search for sustainable funding.