Nonprofit coalitions and advocates press on to save state parks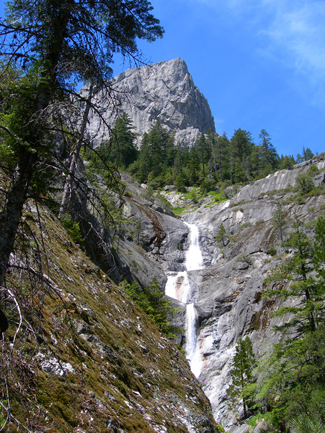 In November 2011, not long after I returned from an overnight visit to Castle Crags State Park, where domes and spires rise up like castles in the sky, park officials closed the campground and entry gate for the first time. I called around to find out if any efforts were underway to save this majestic park from the permanent closure list announced in May 2011. I learned that the California State Parks district superintendent had started discussions with a local nonprofit and a private concessionaire but no actions were in motion.
Now on the first day of March 2012, in less than four months so much has changed around the state as groups have mobilized under the realization that the unprecedented closures of state parks are real and imminent.
Many nonprofit conservation and parks groups have demanded information from public officials and have sprung into action.
Park advocates and the National Park Service have saved 10 of the 70 parks slated for closure. In at least two parks, the introduction of new parking fees helped convince the parks department to keep parks open.
The California State Parks Foundation launched the Defend What's Yours campaign. On March 20, park advocates will head to the state Capitol to lobby for state parks as part of the foundation's 10th Annual Park Advocacy Day.
State lawmakers have introduced bills (Assembly Bill 1589 and Senate Bill 974) to stop closures and find sustainable long term funding for state parks. While this is encouraging for the long term, it is unlikely that those bills will make it through the legislature in time to stop park closures (read an analysis in this Mendocino County news story).
Since February 22, California State Parks has presented five public workshops to find possible partners to help save state parks on the closure list. The final workshop wrapped up today in Los Angeles. You can find a partnership workbook for operating agreements, FAQs and other information on the state parks website.
Closed parks vulnerable to vandalism
According to this story in the Record Searchlight of Redding, the California Department of Parks and Recreation has "lowered the bar" for communities seeking to save local state parks by lowering fundraising requirements. The tradeoff is reduced park operating hours and services. After all, a park with reduced hours might be better off than one abandoned and vulnerable to vandalism. The Los Angeles Times recently reported on damage to the visitor center and other structures at Mitchell Caverns Natural Preserve in the Providence Mountains State Recreation Area near Mojave National Preserve.
Nothing is sacred, not even a 138-year-old Taoist temple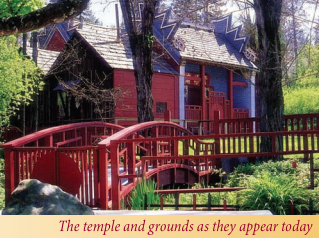 The Record Searchlight story also describes efforts to save the Weaverville Joss House State Historic Park, a Taoist temple built by early Chinese immigrants. The campaign to save this Temple of the Forest Beneath the Clouds will include "fundraising pleas to Chinese-American communities in the Bay Area via a Chinese language television station." The temple is the oldest continuously used Chinese temple in California and became a part of the California State Park System in 1956.
Nonprofit coalition offers six action steps you can take
The Mount Shasta Bioregional Ecology Center, a nonprofit organization based in Mount Shasta, California, is one of the lead organizations taking action to save Castle Crags State Park. Inspired by citizens stepping forward with ideas, plans and action to save other parks around the state, they formed the Castle Crags Community Coalition and designed six steps to mobilize the community to take action. Their fight recognizes that this region is of great importance locally, nationally and internationally. Read more about the Coalition's ideas to save this park.
Six action steps you can take to save a state park
1. Write a personal letter to Governor Jerry Brown and state legislators. The Coalition recommends personal letters. They learned that one original letter carries the same "weight" of 500 form letters. On their website, they offer the community a suggested format for a personalized letter with talking points and addresses. They are also offering to hand deliver all the letters to the governor.
2. Sign a petition or collect signatures in your community.The Coalition describes the success of South Yuba River State Park in the Sierra foothills, where citizens delivered a petition with 10,000 signatures to the governor and a proposal for keeping it open. Park officials removed the park from the closure list.
3. Organizations, cities and counties can help.Organizations, cities and counties can write letters to public officials and pass a resolution opposing park closures.
4. Join, lead or form a committee to support a community campaign.The Coalition formed committees to handle all the needed aspects of their campaign including a Planning & Proposal Committee, Education & Training Center subcommittee, Letter Writing Committee, Petition Committee & Petition Drive, Fundraising / Finance Committee and Volunteer/Labor Committee.
5. Write letters to the editor of your local news organization.
6. Help a local coalition by becoming a member/making a donation.Donations to organizations like the Mount Shasta Bioregional Ecology Center and Mt. Shasta Trail Association are tax deductible.
Special Reports on State Park Crisis
In a recent story on KQED's California Report, the show announced "On the Rocks" a new special series that will follow the state parks crisis starting on Monday, March 5, 2012. The show's host, Rachael Myrow, described it to me as a six-part, multi-media series that will kick off with an interview of the head of California State Parks. Then reporters will visit threatened parks for a closer look at the issues and talk to park leaders in other states.
Bay Nature Magazine is running a special feature on state parks in the January – March 2012 issue. Look out for a special statewide feature in the April 2012 issue.
Blog series
This is the 22nd article in a series on threats to California State Parks and the search for sustainable funding.