For next generation of Californians, parks legacy is at stake
Today, the San Rafael Patch reported on a recent townhall meeting in Marin County, north of San Francisco, to discuss imminent closures at two state parks: China Camp State Park and Olompali State Historic Park. China Camp's campgrounds and restrooms are now closed Sunday through Thursday. Bank Ranch Meadows Campground at China Camp is open Friday and Saturday.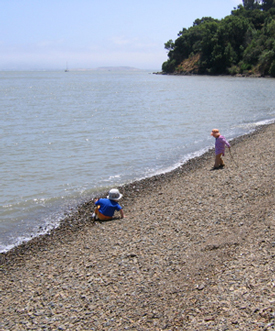 According to the Patch article, Danita Rodriguez, the Marin District Superintendent for the California State Parks said to keep Olompali open two days a week would cost $55,000 per year and to keep it open full-time would be $265,000. China Camp, because it's more complex and has more visitors, would cost $595,000 per year to keep open full-time.
Should these costs be an issue in Marin County, one of the wealthiest counties in the United States?
A quick back-of-the-envelope calculation tells me that the costs to run the Marin County parks are insignificant compared to the benefits these parks bring – from preserving our natural heritage to offering places for children to spend time outdoors.
In this article, "Four state parks in Monterey County slated to close unless sponsors step up", Elizabeth Goldstein, president of the California State Parks Foundation said:
If parks close and stay closed, it would mark the first time the state park system would be left smaller for the next generation of Californians."
Blog series
This is the 12th article in a series on threats to California State Parks and the search for sustainable funding.