California State Park Crisis featured on KQED Forum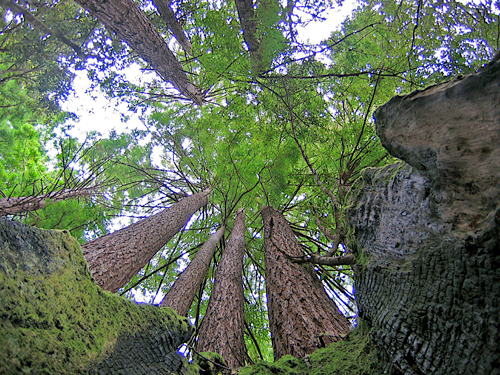 With the California State Park system in crisis, lawmakers and advocates are focused on passing legislation that could help keep as many as 20 parks stay open. A total of 70 of California's 278 state parks (25%) face permanent closure. On September 6, a bill to allow the California state parks system to enter into operating agreements with nonprofits completed its journey through the legislature and now awaits Governor Jerry Brown's signature.
This morning on KQED's Forum, Michael Krasny spoke to Jared Huffman, the California assemblyman (D-San Rafael) who authored Assembly Bill 42 to help save state parks from closure, and Elizabeth Goldstein, president of the California State Parks Foundation. Her foundation is one sponsor of AB 42. (KQED Audio archive: Non-Profits: State Parks' Savior?).
With closures imminent, growing awareness has led to many philosophical and political questions by the public. Some can't believe that the parks will close, and others fear privatization. At the same time, the situation has reached a level of "triage" said Assemblyman Huffman. Huffman said that he would also like to use the public funding model of the last 100 years, but under the circumstances:
"Would I prefer a nonprofit operated park as a opposed to a closed park? Absolutely."
After the public voted down Proposition 21 to support the park system in last November's elections, what are the alternatives to keep this public asset truly public? Elizabeth Goldstein is optimistic that "we will find a long term tool to sustain the park system." She said it will be critical for us to "keep our voices high." Her organization, the California State Parks Foundation, accepts donations to help keep parks open.
One caller to the show said that his corporation was wondering if the state park system has an "adopt a ranger" or "adopt a park" program and if it was possible to see park budgets. Elizabeth Goldstein enthusiastically jumped on the opportunity, offering her email address on the air. In response, Krasny said, "does this mean that we are moving toward privatization?" Goldstein pointed out that the park system has relied on private donations for decades (if not for its entire lifetime) with the big change now applying to how donations will be spent in the park system. In the past her foundation raised money to support education programs and capital projects, now dollars will fund operations and maintenance.
Governor Brown has until October 6 to sign Assembly Bill 42 into law. You can send a message to the governor to let him know your position on this bill.
70 California State Parks on the Closure List
San Francisco Bay Area Parks are in bold
Anderson Marsh SHP
Annadel SP
Antelope Valley Indian Museum SHP
Austin Creek SRA
Bale Grist Mill SHP
Benbow Lake SRA
Benicia Capitol SHP
Benicia SRA
Bidwell Mansion SHP
Bothe-Napa Valley SP
Brannan Island SRA
California State Mining and Mineral Museum Park Property
Candlestick Point SRA
Castle Crags SP
Castle Rock SP
China Camp SP
Colusa-Sacramento River SRA
Del Norte Coast Redwoods SP
Fort Humboldt SHP
Fort Tejon SHP
Garrapata SP
George J. Hatfield SRA
Governor's Mansion SHP
Gray Whale Cove SB
Greenwood SB
Grizzly Creek Redwoods SP
Hendy Woods SP
Henry W. Coe SP
Jack London SHP
Jug Handle SNR
Leland Stanford Mansion SHP
Limekiln SP
Manchester SP
Picacho SRA
Portola Redwoods SP
Russian Gulch SP
Salton Sea SRA
Twin Lakes SB
Los Encinos SHP
Malakoff Diggins SHP
McConnell SRA
McGrath SB
Mono Lake Tufa SR
Morro Strand SB
Moss Landing SB
Olompali SHP
Palomar Mountain SP
Petaluma Adobe SHP
Pio Pico SHP
Plumas-Eureka SP
Point Cabrillo Light Station Property SHP
Providence Mountains SRA
Railtown 1897 SHP
Saddleback Butte SP
Samuel P. Taylor SP
San Pasqual Battlefield SHP
Santa Cruz Mission SHP
Santa Susana Pass SHP
Shasta SHP
South Yuba River SP
Standish-Hickey SRA
Sugarloaf Ridge SP
Tomales Bay SP
Tule Elk SNR
Turlock Lake SRA
Weaverville Joss House SHP
Westport-Union Landing SB
William B. Ide Adobe SHP
Woodson Bridge SRA
Zmudowski SB
This is the second article in a series on threats to California State Parks and the search for sustainable funding as the park system is forced to reinvent itself.