Women's History Month roundup – scientists, adventurers and leaders
In recognition of the final day of Women's History Month 2017, this post features a roundup of stories that spotlight women breaking barriers and making history in science and the environmental fields and in the outdoors. This post's feature photo commemorates Sally Kristen Ride (May 26, 1951 – July 23, 2012), who became the first American woman in space in 1983 (source: U. S. National Archives). The book and successful film of the same name, "Hidden Figures" (in theaters now) has also brought to light the groundbreaking stories of three African American women mathematicians who made history at the National Aeronautics and Space Administration (NASA) by overcoming racial and gender barriers. Read on for stories about a tree canopy scientist, a woman we have to thank for protection of the High Sierra and two women who made history on top of the world.
Climbing Trees for Science – Meg Lowman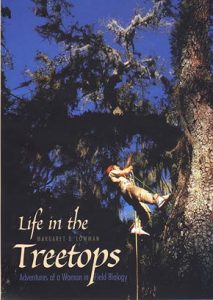 I grew up climbing trees and hopping fences and today I enjoy rock climbing, but I never considered how my love for vertical adventures could have been a career in science. That is why the story of Meg Lowman, a scientist who has spent a lifetime scaling trees, struck a chord. Lowman is the Director of Global Initiatives, Lindsay Chair of Botany/Senior Scientist in Plant Conservation for California Academy of Sciences and the author of "Life in the Treetops."
Earlier this month, Lowman spoke to Michael Krasny on KQED's Forum about her life as a tree canopy scientist, how she overcame hurdles as a woman in science, and how she encourages women and girls to pursue science education and careers. Listen to the KQED recording here. (Speaking of tree canopy research, Save the Redwoods League recently shared a post about a new exhibit on exploration of the towering redwoods in Muir Woods National Monument.)
Unsung Hero of the High Sierra – Susan Thew
For over 20 years I have been backpacking and climbing in California's High Sierra, yet until recently I had never heard of Susan Thew — a woman who left a lasting impact on Sequoia and Kings Canyon National Parks.
The National Park Service published a spotlight on Susan Thew, illuminating the story of how Thew spent several summers traversing rugged terrain in the High Sierra, including mountain passes that are now key features of the famous John Muir Trail. She captured the beauty of the dramatic landscapes in words and  images (the largest and most complete photographic record of the region to date) to demonstrate the need for preservation. Her dedication paid off. Because of her efforts, the park's acreage tripled. Sequoia National Park's boundaries were extended to include the Great Western Divide, the Kaweah Peaks, the Kern Canyon, and the Sierra Crest. During the campaign to create Kings Canyon National Park in 1940, photographer Ansel Adams used Thew's approach, creating a portfolio of images for Congress. His efforts also contributed to success in passing an expansion bill for the national park.
Making History on Top of the World  – Junko Tabei and Sophia Danenberg
Climbing and mountaineering have historically been very male-dominated activities, but every year more and more women, including women of color, are taking on big challenges in the mountains.
We can look to the trailblazing stories of Junko Tabei and Sophia Danenberg for inspiration. Both women have stood on the summit of Mount Everest, the world's tallest mountain.
Junko Tabei, a Japanese mountaineer, was the first woman to reach the summit of Mount Everest in 1975 and the first woman to ascend all Seven Summits by climbing the highest peak on every continent. In 1969 she formed a climbing club for women, the first of its kind in Japan.
In 2006 Seattle-based climber Sophia Danenberg became the first African American to climb to the summit of Mount Everest. She tells the story of her adventure in a TEDx talk here. Danenberg holds a degree in environmental science and public policy from Harvard and today works at Boeing and volunteers for organizations that promote active lifestyles, the environment, education and the arts.
Stories about Junko Tabei and Sophia Danenberg came to me by way of a blog post written by Shelby Jumper of Outward Bound, an organization I have worked with over the years. Organizations like Outward Bound help people to push out of their comfort zones. The rivers and mountains of the natural world serve as their classroom.