What is the future of Mendocino area state parks? Part I: Russian Gulch
A website that manages camping reservations for a state park on California's dramatic North Coast warns campers: "park scheduled for closure beginning July 1, 2012 indefinitely." Russian Gulch State Park, located just over a mile north of the famous historic town of Mendocino is among 70 parks that were slated for closure in May 2011.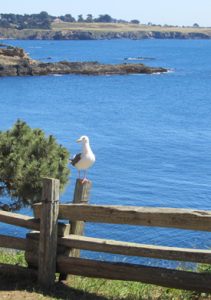 Mendocino area parks — from Hendy Woods in the Anderson Valley to the dramatic bluffs of the California coast — offer ancient redwood groves, ocean views, beaches, wildflower and wildlife viewing, hiking trails, kayaking, swimming holes and campgrounds — and much of this land is made accessible by our state parks to people of all income levels.
After decades of battles to preserve the scenic wonders of the Mendocino area from unsightly development, state parks here are under siege by devastating budget cuts. Eight of Mendocino County's 16 state parks landed on the infamous closure list of May 2011 that slated 70 California parks to close by July 1, 2012. Many parks, on the closure list or not, also suffer from a maintenance backlog of more than $1 billion across the state system.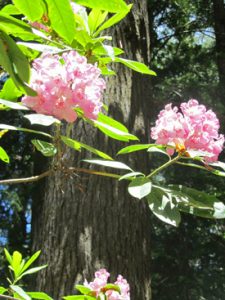 For Russian Gulch that maintenance backlog now has State Parks scrambling. On Wednsday the Mendocino District superintendent, Loren Rex, learned about problems with the water and sewage infrastructure there. "We are no longer going to put this park out to a nonprofit agreement," said Rex in a phone call.
This might not be all bad news, says Carolyne Cathey of the nonprofit Mendocino Area Parks Association – known as MAPA. For the last year, MAPA has been working on a proposal with the local State Parks district to operate Russian Gulch, including the campground, with a nonprofit operating agreement, authorized by the new law AB42. In March they submitted a proposal to Sacramento. In addition to a campground with 28 sites, the park offers beach access, picnic areas and hiking trails that give visitors dramatic views of the Mendocino area coastline as well as access to an inland canyon filled with lush green ferns and Pacific rhododendrons, culminating in a waterfall.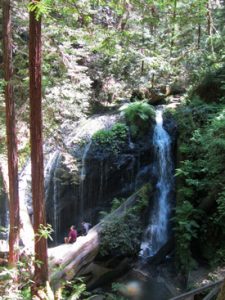 If Russian Gulch remains open to the public and protected, Cathey said that MAPA's ultimate goal would be achieved. On a recent visit here, I could see why the park has its ardent supporters including Cathey, Mendocino locals, tourists and the local State Parks personnel who take pride in the park. When we arrived at the entry kiosk for the park, the state parks staff person gushed about the hike to a 36-foot waterfall up the Fern Canyon Trail in Russian Gulch Creek Canyon and the "Punch Bowl" — a large collapsed sea cave with churning water.
As of the late afternoon on May 24, State Park superintendent Loren Rex was waiting to hear back from Sacramento on how to proceed with Russian Gulch now that they could no longer work out an operating agreement with MAPA. This park is one of two parks on the closure list in the Mendocino area that received funding from the federal Land and Water Conservation Fund, so legally they cannot close those parks. Until he hears back from headquarters, Rex could not say if they can keep the campground open and staff the park. Reserve America, the website visitors use to reserve State Parks campgrounds, currently indicates that this park's campground will close July 1, 2012.
Status of Eight Mendocino Area Parks on Closure List
Before the breakdown at Russian Gulch on Wednesday afternoon, earlier that day I spoke to Rex about the status of all Mendocino parks on the closure list. Here is the update:
Greenwood State Beach: Several donors have stepped up to support a donor agreement for this park including the Olmsted Fund, MAPA and the California State Park Foundation.
Hendy Woods: Thanks to the support of the newly formed nonprofit Hendy Woods Community, Save the Redwoods League and the California State Parks Foundation, this park will be taken off the closure list.
Jug Handle State Natural Reserve: The Olmsted Fund and California State Parks Foundation signed donor agreement with California State Parks to remove this park from the closure list.
Manchester State Beach: At a minimum, California State Parks must keep this park open to day use because the park is a past recipient of Land and Water Conservation Fund (LWCF) grant monies, according to State Parks Loren Rex. Rex recently met with the nonprofit Moat Creek Managing Agency to discuss an operating agreement.
Point Cabrillo Lightstation State Historic Park: The nonprofit Point Cabrillo Lightkeepers Association that has run this park as a concessionaire to California State Parks will renew its agreement to take this one off the closure list.
Russian Gulch State Park: At a minimum, California State Parks must keep this park open to day use because the park is a past recipient of Land and Water Conservation Fund (LWCF) grant monies, according to State Parks Loren Rex.
Standish Hickey State Recreation Area: MAPA prepared a proposal to operate this park and has been discussing it with local park officials. They are getting ready to send the proposal to Sacramento and expect that it will take at least five weeks to receive approval. Donations are needed.
Westport-Union Landing State Beach: State Parks is working on an interagency agreement with the Cahto tribe, and independent nation with strong connections to the lands here. This would represent the first time for State Parks to enter into a formal agreement with an independent nation.
More to come on Mendocino Area State Parks
This post is the first of two articles on issues facing the Mendocino area state parks and ways local community members and nonprofits are stepping up to help our parks. Visit MAPA's Facebook page for the latest updates on their efforts to save the parks of the Mendocino area.
Update
To learn more about the status of Russian Gulch, read my updated article on Bay Nature: Faulty water system pulls Russian Gulch off closure list.