News and notes – from Yosemite to the voting booth
Two weeks ago, before the first autumn storm arrived in Northern California, the yellows and golds of the season lit up the canopies of big-leaf maples and black oaks in the iconic valley of Yosemite National Park – a national treasure that was established as a land grant in 1864 and as a national park in 1890. A recent blog article by Conservation International highlights recent research on Yosemite and nearby lands that show us the importance of protected lands for supporting biodiversity and what could happen if protections disappear from public lands.
As the article reminds us, national parks as well as the national monuments, including some public lands that are now at risk, "protect special places for now and for future generations". People from all of the world come to the United States to visit our national parks, and many are coming from countries that see the U.S. National Park Service, established in 1916, as a model.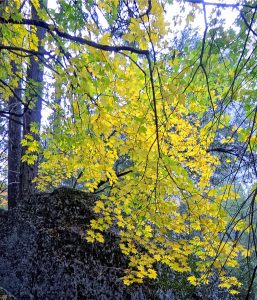 Connecting parks and science and the centennial of the National Park Service led to the first of its kind summit — convening science leaders to help launch the next 100 years of stewardship for parks — at UC Berkeley in March 2015. The summit became the impetus for launching the new Berkeley Institute for Parks, People, and Biodiversity in October 2017.
In other encouraging news for the protection of parks, you will begin to hear a lot more about Senate Bill 5, the $4 billion California Parks, Environment, and Water Bond. Governor Jerry Brown recently signed the legislation, qualifying SB 5 for the June 5, 2018 ballot. According to this post by Environmental Defense Fund, its largest allocation – $725 million – will go toward building new parks in underserved neighborhoods – communities with fewer environmental investments and protections.
Events and resources – environment, social change, philanthropy
Here's my latest roundup of events and resources for professionals and activists working at the intersection of philanthropy, social change and environment.
~ Can Nature Save Us? The next 2017 Horace M. Albright Lecture in Conservation at UC Berkeley on November 9 will feature Conservation International's CEO Dr. M. Sanjayan, whose keynote address will highlight nature's essential role in creating a livable future for people everywhere. He will focus on how we need to reframe environmentalism in order to move forward and will share stories from Conservation International's work.
~ The conservation community will be talking about the aftermath of the Northern California wildfires on November 16 at an event hosted by the Bay Area Open Space Council in Berkeley. In Sonoma, the philanthropic community is responding to the fires as well. The Community Foundation Sonoma County launched the Sonoma County Resilience Fund in light of the fact that disaster philanthropy tends to follow a natural cycle: on average about 70% of the funds raised in disaster relief are raised in the first month, with only 4.8% going to recovery and rebuilding efforts.
~ Skyline Gardens, a swath of the East Bay ridgetop between Berkeley's Tilden Regional Park and the Caldecott Tunnel (Highway 24), provides habitat for 247 native plant species, making it the most botanically diverse area of its size (about 250 acres) in the entire East Bay. Groups restoring the area recently launched a website and are actively seeking new volunteers to support restoration efforts.
~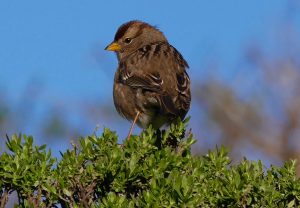 This winter you can participate in one of the oldest citizen science projects in the United States – the 118th annual Audubon Christmas Bird Count – with events happening all over the state of California, from December 14, 2017, through January 5, 2018.
~ Through January 2018, Nancy Karp + Dancers will be on site in the David Brower Center's Hazel Wolf Gallery every Monday afternoon working on a new dance work titled On Beauty that's inspired and informed by the gallery's current exhibition, Douglas R. Tompkins: On Beauty. The rehearsals are open to the public and scheduled to begin at 1 pm every Monday – although there may be a few time shifts. Consult nancykarp.org for the latest information.
~ Did you know that the world's botanic gardens protect one-third of all known plant species including many which are threatened or endangered? Researchers argue that botanic gardens are of "critical importance to plant conservation", and internationally coordinated efforts are needed to house even more species at risk of extinction – particularly those from tropical climates. To this point, the work of botanical garden's plays an important role in plant conservation and these efforts are oftentimes supported by nonprofit partners that raise the funds for conservation programs and public education. For example, San Francisco Botanical Garden Society (a current client) provides this support for San Francisco Botanical Garden. Now through December is the best time to visit the Garden's Andean Cloud Forest and Chilean collections, which include plants from "biodiversity hotspots" in South America that are rapidly losing ground and in danger of extinction.
~ If you've read previous blog posts here, you probably know that I am a big admirer of the John Muir Trail and the roadless wilderness of California's High Sierra, from the Golden Trout Wilderness to Yosemite. I also have aspirations to hike other sections of the Pacific Crest Trail. That is why I was pleased to hear that the Pacific Crest Trail Association recently opened a new section in the Sierra Buttes, built over the last four summers. The trail avoids a long-standing road walk and gets you further away from vehicle noises.
~ Here in the Bay Area, trails are connecting to transit.  The new Berryessa BART station in east San Jose is scheduled to open in June 2018 and the Bay Area Ridge Trail will run right through it. This trail will bring BART passengers directly to the Penitencia Creek Trail, Alum Rock Park, and then up to wild ridges in Sierra Vista Open Space Preserve and beyond. A Measure Q grant from Santa Clara Valley Open Space Authority is supporting portions of this project with new trail and interpretive signs, maps, multi-lingual outings, and community outreach.
~ For over 20 years, the Mesa Refuge has hosted more than 700 writers and other creatives who have changed the conversation on pressing issues related to nature, human economy and social equity. Applications for spring 2018 residencies in West Marin are due December 1, 2017.