Environmental protection among key goals for Women's March
People came out in record breaking numbers for the 2017 Women's March and sister marches on January 21, 2017. An estimated 2,600,000 people, worldwide, participated.
My husband and I marched in Oakland, California. Friends who are parents and professionals working in environmental ethics and environmental law invited us to join their posse of friends and three generations of family members. In my circles of friends, it was not a question of "Will you attend the Women's March?", it was, "Which march are you attending and how can I find you?"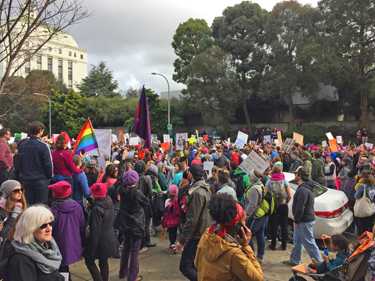 In the Bay Area, marches took place all around the region with the largest marches flooding the streets in Oakland and San Francisco. We saw people of all ages and backgrounds. This is the first time I have seen so many parents with young kids, including babies in strollers, at a demonstration.
Environmental protection a unity principle for Women's March
Environmental justice served as one of the unity principles of the Women's March:
"We believe that every person and every community in our nation has the right to clean water, clean air, and access to and enjoyment of public lands. We believe that our environment and our climate must be protected, and that our land and natural resources cannot be exploited for corporate gain or greed—especially at the risk of public safety and health."
Dolores Huerta, an environmental and social justice role model and icon, served as one of the honorary co-chairs for the Women's March.
Large contingents of climate activists, scientists and other environmental protectors carried signs to call for protection of the climate, the planet and sound science. The chant of 500 Women Scientists — a new global advocacy group — went like this:
"What do we want? Data!

When do we want it? Forever!"

"When I say peer, you say review! Peer! Review! Peer! Review!"
Women's March environmental partners
A strength for the Women's March was its partnerships. Hundreds of partners supported the movement. Those partners helped to ensure a successful day by educating their supporters and stakeholders on how to participate in a peaceful demonstration.
Presenting environmental partner: NRDC
One of the lead partners of the Women's March was an international environmental nonprofit with more than 2 million members and online activists: Natural Resources Defense Council. In a press release, Rhea Suh, NRDC's president said:
"A healthy environment is a basic right for all of us—regardless of where we live, how we vote, or what we look like," said Rhea Suh, president of the Natural Resources Defense Council. "Today, this right is threatened by an incoming administration that is putting corporate polluters before people. Together, we will fight these attacks and continue to build a just and livable future for ourselves, our children, and our planet. Women are not only on the frontlines of the climate crisis, we are essential to the solutions."
Other environmental partners (full list of partners here):
Fired up? What's next?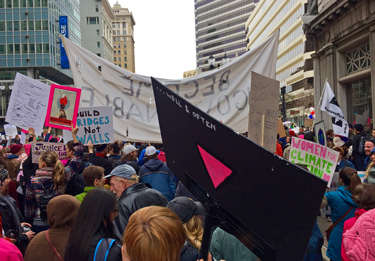 As one of the largest demonstrations in U.S. history, the Women's March left many of us feeling hopeful after suffering from weeks of dread. It gave those who want peace and justice and progressive social change the energy to get organized and move on.  In my opinion, the organizers of the Women's March and the sister marches did a great job with making civic engagement attainable for everyone. Among the marchers were parents pushing strollers, young children carrying signs for the first time, moms, dad, grandmothers, grandfathers and many others who care about safeguarding human rights and the planet.
Now what? Consider focusing on specific issues that concern you the most or for which you can offer expertise. If you work in the environmental fields, for example, attend networking events like those organized by the Women's Environmental Network, sign up for action alerts with environmental groups like NRDC and follow reputable news sources like ProPublica. ProPublica recently hired former New York Times Dot Earth blogger Andrew Revkin to head up climate and environment reporting. Revkin just published an article on the new administration's freeze on grants and contracts by the U.S. Environmental Protection Agency.
Organizing tools. Our local community news site Berkeleyside offered a number of ways for people to stay involved and active with the issues they care about. Many of these groups have a presence across the country. Here are a few of the national resources and tools they posted on their news site before and after the march:
Get organized! Follow the lead of my friends who organized our group for the march: Start your own Google Group or other listserv where you can share Daily Action suggestions, alerts, events and other important news with your friends and colleagues.
Participate in local arts & culture: Our libraries, museums and other cultural institutions are great places to get out of our silos, build knowledge, make connections and expand our thinking. Many of these institutions organize talks, educational events and networking opportunities for the community.
Join a local committee or coalition. Get to know the issues and activists in your community. For environmental issues, join a committee of the Sierra Club in your area. In Berkeley, check out the Berkeley Climate Coalition. If you are an advocate of better transportation options and cycling, attend an event of your local bicycle coalition such as the San Francisco Bicycle Coalition or Bike East Bay.
Call your representatives in Congress. Calling continues to be the best way to be heard on an issue. What started as a Google sheet and a series of how-to tweets by former Congressional staff member Emily Ellsworth is now a full-blow website on how to call Congress: We are the 65. What if your state senators and representatives in Congress are supportive of your issue? Does it make a difference? The all-volunteer run group says, "Yes.. If your legislators are representing you well, call and thank them! These kinds of calls are great because, a. they're short and b. they let your representative know that you're paying attention and acknowledging their work. It's also possible that large volume of calls might motivate more aggressive action from your official, such as a proposal/resolution or public statement drawing attention to your issue." You can also check out the tool 5calls.org for a summary of issue-specific calls you could make including phone numbers and suggested scripts.
What else can we do next to protect human rights, our climate, our environment, our public lands and the integrity of science?