Nancy Duarte: Transforming audiences to change the world
"Changing the world starts with transforming an audience, and an audience will only change if you resonate with them."
That was the advice of Nancy Duarte in her presentation at a gathering of the San Francisco Chapter of the International Association of Business Communicators (IABC) on April 4, 2014.
Presentation innovator Nancy Duarte is the CEO of Duarte Inc. based in Sunnyvale, California and the publisher of books on how to create engaging and memorable presentations that move audiences. Duarte's clients have included politicians, thought leaders, nonprofit organizations and leading global brands – from Al Gore, Michael Pollan and Conservation International to Cisco and Hewlett Packard.
At the talk on Friday, and in her book "Resonate: Present Visual Stories that Transform Audiences", Duarte invoked the powerful I Have a Dream speech by civil rights leader Dr. Martin Luther King, Jr. as a case study for how to create compelling and persuasive communications. She describes the speech's "sparkline" (the dramatic contrast of what is and what could be) in this video blog post.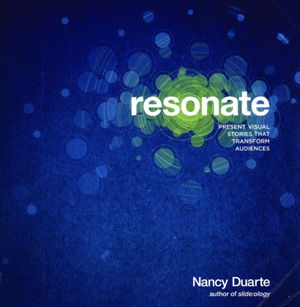 In this visually rich publication, Duarte describes powerful communication techniques that will benefit every nonprofit leader and fundraiser. And now, Duarte Inc. is offering an interactive version of this groundbreaking book free online and as an iBook for download.
View the full Resonate Book free online.
If you are trying to raise money, create awareness or mobilize people for a cause, you will need to be ahead of the curve to be successful. Strong communications will keep people motivated and committed to moving forward. "Rallying stakeholders to move together in a common course of action is all part of the innovation and survival process," writes Duarte.
"If you can communicate an idea well, you have, within you, the power to change the world."
The book also asks you to question if your "call to action" resonates with all groups capable of taking action? Duarte describes those groups as:
Doers – those who instigate activities
Suppliers – those who get resources
Influencers – those who change perceptions
Innovators – those who generate ideas
In the nonprofit sector we are talking about all the "movers and shakers" from volunteers activists and board members to executive directors, donors and philanthropic leaders. Who will help you move your idea forward?
10 Key Takeaways from Resonate
Stand out: Camouflage makes you blend in, and that is not what you want. Be bold. For your idea to gain traction you must stand out. "A great way to stand out is to be real."
Be clear and transparent: "The enemy of persuasion is obscurity."
Have a call to action: What do you want your audience to do? What are you asking of your Doers, Suppliers, Influencers and Innovators?
Mix facts with emotion: With facts you also need emotional impact. When something resonates for you, what does that feel like?
Create meaning and make it memorable: Stories can transform the information and data behind your ideas into meaningful, visual memories.
Who is the hero? It's not all about you. Your audience is the hero, and you are the mentor. Heroes help move your idea forward and bring the resources.
Connect with your audience. Whether you are writing a letter to one person or speaking to a large audience, what shared experiences and common goals do you have?
Where is the overlap? Find your common ground and communicate where there is overlap.
What is the reward for your audience? Do not end on a call to action. Make a vivid picture of the potential reward (from what is to what could be). When your heroes champion your cause, will they feel proud of the results? Will they receive recognition?
Dream big. Everyone has the power to create a sense of wonderment and to transform the world.
"I'm always looking, like a child, for the wonders I know I'm going to find—maybe not every time, but every once in a while."

Richard Feynman, American physicist